Halloween's just around the corner so to mark the occasion we've scoured the Internet for some suitably spooky knitters.
Morticia, The Addams Family
They're creepy and they're kooky, mysterious and spooky. But did you know that The Addams Family are also knitters? Here's Morticia getting her knit on while husband Gomez indulges in his own brand of relaxation.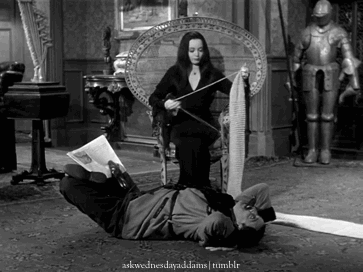 And like every good knitter, she's always keen to share her skills – although looks like Lurch could do with checking out our Wool School videos.
The Island Ghost, Moomins
The Island Ghost, or Spöket, is a not-so-spooky fella encountered by Moominpapa and his pals. After he's laughed at for his failure to scare anyone, he takes up knitting to soothe his nerves. He looks pretty happy, so we think it's worked out for him.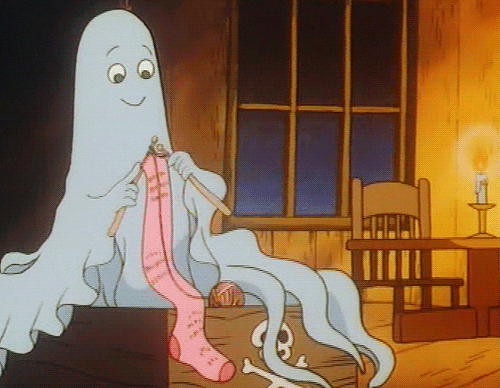 Deacon the Vampire, What We Do In The Shadows
Deacon takes the opportunity to do a spot of knitting during a meeting with his flatmates in the New Zealand vampire mockumentary, What We Do In the Shadows. Having clocked up 183 years, we reckon he must have some pretty impressive knit skills by now…
Laurie, Halloween
While we don't condone the use of knitting needles as weapons, babysitter Laurie's pointy pal comes good in seasonal slasher-pic Halloween when *SPOILER* she uses it to defend herself from masked maniac, Michael Myers. We're being pretty reserved in our choice of image here.
Katie, Paranormal Activity
And to reference a more recent horror pic, the more eagle-eyed among you (we didn't!) may have spotted Katie knitting during several scenes of the supernatural surveillance shocker, Paranormal Activity.
The Knitting Charm, Harry Potter
Pretty low on the spook-o-meter but supernatural all the same – it's the knitting charm from the Harry Potter series. Used by both Hermione and Mrs Weasley, the ability to charm knitting needles to rattle off a scarf or a sweater could come in very handy with Christmas just around the corner.
Like what you see? Check out our Knitwear Goes to the Movies post for more screen knits.
Happy Halloween, Gang!